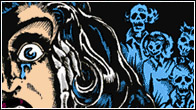 What's the last thing you've seen on television that had u shook? checkin shadows? surveying alleys?

Ok it was years ago
show was Beyond Belief : fact or fiction
Show Summary: Within the course of one hour 5 stories are shown. None of these stories have any logical explanation, and some of them actually occurred. You are left to decide which of these stories, if any are fact, and which are fiction.

There was an episode from this TV series that originally aired back in
1997. This episode is one where this little boy believes there is a monster in
his closet. His older brother, like older brothers are apt to do, teases him about it and One day after school, the older brother and somea his friends threaten to lock lil bro in the closet. Lil bro pulls the ole reverse psychology tip and older brother goes into the closet himself to prove that there were no friggin monsters hidin up in that bitch. Well. Older brother starts screamin bloody murder and the other kids are thinking he's actin a fool just for show
Well they open the closet and lo and behold
Noone's in it
but
ole boy's clothes were on the floor
They said the cops found scratch marks all over the inside of the closet. They labeled that shit FACT
i said hell to the naw and then i couldn't go to sleep.

Nah
I don't think u understand
That crap fucked with my mind

That night i made sure i got up and closed all the closets
for sure did sleep with my face towards the wall
I wanted to be surprised if some demonic shit was gon grap me

A vivid imagination is only good in the friggin daytime
That shit has u messed up when it's the dead of night and there are fifteen million shadows around

I love to be scared tho

and i love the paranormal and science fiction
so of course

The Outer Limits


Poltergeist


there was a show too
i definitely caught that


Tales From the Crypt Keeper





Have any phobias?
What's the scariest movie you ever saw?
Do you like to be scared?